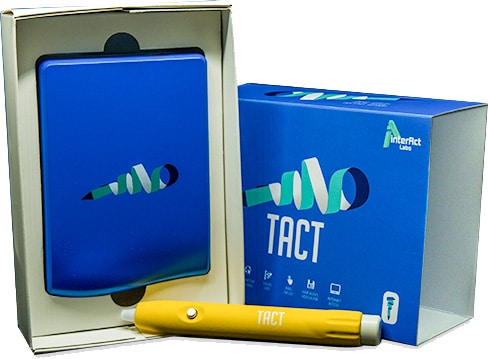 4 Benefits of TACT for your business
There are many business benefits of TACT, the device which is able to turn any monitor into a touch screen that ranges from the obvious to the obscure. Here's a list of 4 top reasons to add a TACT device that turns any surface into an interactive whiteboard to your conference room. Reasons range from the personal (team building, communication) to the pragmatic (reduced IT workload and improved profits). And not upgrading to interactive whiteboards can have a surprising impact on the total cost of ownership.
Advanced technological capabilities are transforming every aspect of work. We now have amazingly effective productivity-boosting phone apps that we carry right in our own pockets. We're also seeing a steady stream of new cloud-based platforms that enable organizations to collaborate with partners around the globe. Included in this digital transformation are the many business benefits of the device which is able to turn any monitor into a touch screen.
From the individual apps that employees download to the enterprise cloud-based solutions put into place, technology has changed the way people get business done. And it's happening in every vertical, from banking and government to retail, healthcare, and more.
Amidst all these changes, the conference room has not stood untouched. A whole new generation of advanced technology solutions for 21st-century conferencing has emerged. The conference and meeting room experience for everyone who attends, whether in person or remotely improves immensely.
One example is the way the Interactive WhiteBoards have changed. Today, TACT, which is able to turn any monitor into a touch screen, is more capable and advanced than the electronic whiteboard prototypes from twenty years ago. Today's models are ushering in a new wave of increasingly digital conference room solutions.
Reason #1: Start Your Meeting Without Any Delays
Whether you're a product manager and you're running an internal team meeting, or you're a CEO hosting a global online conference, you'll need to start your event promptly. Cameron Herold, the "Business Growth Guru," says 1 of the top 6 ways to run a good meeting is to make sure you are starting on time.
TACT the device which is able to turn any monitor into a touch screen is created with a quick and easy setup in mind.. It's an all-in-one device that handles collaboration and interaction easily with everything you need and ready to go. There's integrated software, a robust platform that makes interaction easy, and effortless video conferencing with built-in features like Zoom® software and an embedded web browser.
TACT represents the next-gen of interactive whiteboards. It is designed to help hosts start their meetings on time, every time. TACT is auto-installed with other built-in productivity features.
Bottom line: hosts won't have to call IT departments every time because everything they need is built-in and easy to use.
Reason#2: Create More Engaging Presentations
The days of passively receiving PowerPoint presentations in a meeting are long gone. For a truly effective presentation, participants need to be engaged. You might say the goal of any presentation in a business environment is to engage people. The last thing a presenter should do is be a "talking head," It's guaranteed to lose attention forever.
One of the most practical business benefits of TACT which turns any monitor into a touch screen  is the increase in engagement levels to presenters during meetings.
TACT allows the focus to shift from the presenter to the audience and the material present. Putting the audience first means allowing multiple participants to draw or write on a document or other visual simultaneously. It also means allowing for casting from any of their devices so they can share their docs, too. And finally, it means allowing for group annotation of a document in real-time.
Even if it's just the presenter making use of advanced TACT (the device which is able to turn any monitor into a touch screen )  tools, it can make a difference in engagement. Writing or drawing with a TACT pen on the interactive surface is an excellent way to turn a one-way presentation into a real conversation!
All of these empowering capabilities are featured in today's new generation of interactive whiteboards which is called TACT.
Reason #3: Get Stuff Done Faster
There are several things that companies can do to help their teams be more productive. Systemic factors like how information flows throughout the team members and the physical design of your conference room have an enormous effect on productivity and efficiency.
Conference rooms outfitted with powerful, modern tools like tact which turn any monitor into a touch screen help teams get stuff done faster. One reason is that these systems enable collaboration in ways that were unimaginable ten years ago. New capabilities and added functionality have improved digital collaboration and removed many of the barriers to success that meetings used to suffer using the older technology.
That's crucial in today's increasingly digitized and collaborative work environment. A Stanford University study revealed that collaboration is what drives the workplace these days. Plus, it's no secret that people enjoy working in teams. In fact, according to the study, teamwork increases motivation.
And with today's collaborative work style, everyone needs to be able to share ideas and content with the entire team, even those halfway across the globe. Everyone, whether they're remote or on-site, will become more productive when conference room equipment doesn't let them down.
Conference room tech should offer bright, clear visuals that people can interact with. A static picture on a whiteboard is no longer sufficient for a productive meeting. From sharing content to annotating that content to casting from their device, participants crave group-wide participation and easy access to documents on the cloud.
With the right system and the right tools and accessories, today's TACT, which is able to turn any monitor into a touch screen,  offers all of that and more.
Reason#4: Improve Meeting Culture
When the CEO of one of our clients introduced an in-house platform for employees (TACT) to share ideas and information, he watched the company culture blossom. Employees were empowered, participation in discussions went company-wide, and dialogues lasted for weeks. It all pointed to his collaborative leadership style and its lasting effect on company culture.
By encouraging more input from meeting participants and by opening up dialogues to everyone, the culture at the company became more open and more collaborative. Management transparency is one of the top factors when it comes to employee happiness. In this scenario – and thousands of others like it – conference room technology made a tremendous impact on company culture.
Our partner used the business benefits of TACT and its ability to turn any monitor into a touch screen and other tools to create a more open and collaborative work environment. Here are a few examples of how this works:
When management sees ideas from the front lines of the organization via direct input on a touch screen collaboration system, that's openness.
When marketing and sales can easily share data using their control pen during a meeting, that's collaboration.
When remote workers feel they're not missing a beat because of a fully interactive system, that's collaboration again.
All of these capabilities are improvements in a company culture that make employees happy and align everyone.
Every group has different needs and desires for their conference room. No matter what type of collaboration you need to do, we can help you find a great, customized solution for any room and any conference setting. Learn more about TACT and how it can improve your meetings, your conferences, or your huddle sessions for the 21st century and beyond.