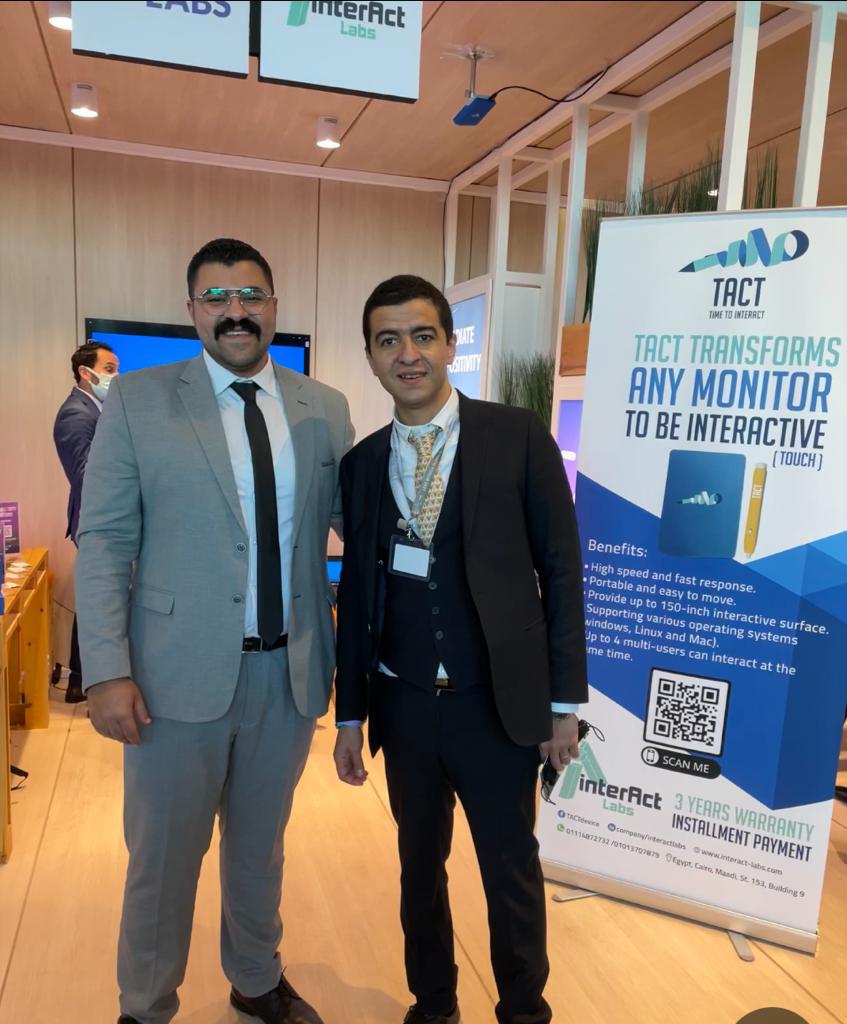 TACT… Egypt's tiniest interactive whiteboard
"TACT was the invention that I have been waiting for a long time, a real revolution and an invention whose effect has been felt since the first day of its use, as it provides me with many choices I've never seen on any interactive whiteboard or smart screen before…"
Said by one of our clients who holds the position of director of marketing in one of the corporations whose headquarters are in Cairo, Dubai, Casablanca, Amsterdam, and other capitals around the world.
He expressed his tremendous happiness with TACT's impact on the work environment within the company, facilitating communication, training processes, and meetings internally and with the other stakeholders.
So, What makes it different from the smart board? What distinguishes it as the best interactive whiteboard? What are the benefits of this over a smart board? How did communication progress from the traditional whiteboard to the smart board, interactive boards, and finally TACT device? What technologies do the interactive TACT device and the smart boards have in common?
Let's start at the beginning of the story..
The full story of the interactive whiteboard or smart board?
Because communication is one of the most difficult, complex and important human tasks, man sought to facilitate it and invented many tools, starting with letters, books, chalk, boards, and others, so that he could present information and simplify it to the recipients.
The design of the interactive whiteboard began in the eighties of the last century, specifically in 1987 by the Americans: David Martin and Nancy Knowlton, his wife, for one of the major technology companies in Canada and America.
The idea was to connect the computer to a sensitive screen that plays the role of the computer and relies on the touch system for navigation without the need to use the mouse or the keyboard. The idea and the first actual interactive whiteboard was produced in 1991 under the name "White Interactive Board", and it went through several stages over the years in which its characteristics and features developed, and spread across the whole world, and received a lot of enthusiasm among the public, and during these stages it passed through many names such as :
 The "Smart Board", then the "Electronic Board", then the "Interactive whiteboard", then the "Digital Board".
As with any invention, as use and spread increased, many problems arose in the smartboard, or interactive board, whether they were general problems specific to the board as an interactive board in general, or specific problems specific to the product as an interactive board in Egypt, as determined by the nature of the Egyptian market.

As a result, Tact emerged as a solution to all of the issues raised in the interactive whiteboard.
Smart and interactive screens, for example, are huge and difficult to move and manipulate, in addition to having restrictions. In contrast to the very large smart or interactive screen price, which represents a hurdle for many who wish to buy a smart board or Interactive in Egypt, there is no smart screen larger than 150 inches to be used in public forums and seminars.
As a result, Tact emerges as a magical answer to all of these issues, offering a pocket-sized gadget at an inexpensive price that performs all of the duties of smart screens and interactive panels, but with greater quality and features.
TACT device has gone through a lot of changes and continuous development since its inception as a graduation project for students of the Faculty of Engineering at an Egyptian university who believed that smart or interactive boards should be developed in schools and institutions, until we reached this upgraded version, which includes all the advantages and facilities that make it suitable for all users and works efficiently without bugs or issues.
Read also: The full story of Tact .. From a graduation project to a company that distributes its products in more than 4 continents around the world. 
This device is considered the first invention of its kind to appear on the African continent and is one of the most innovative and creative products in the Egyptian market. This Egyptian invention will move the field of communication and presentations steps forward and into the future.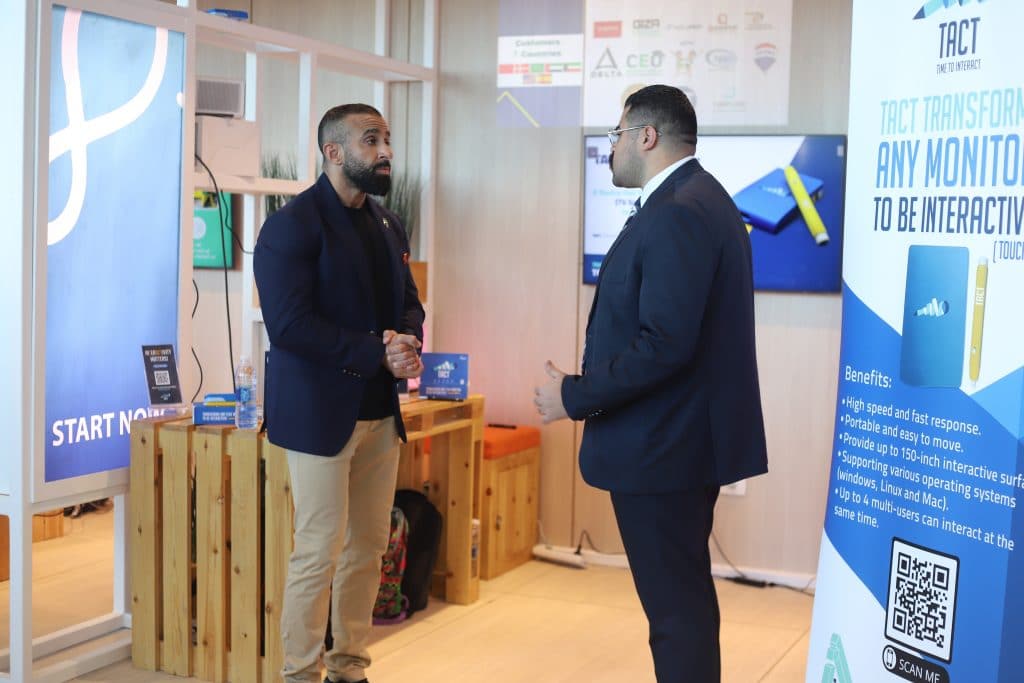 Advantages of TACT and its superiority points over smart boards:
Durability in comparison with interactive boards:
Unlike most smart screens in the Egyptian and The World market in general, which contain electronic chips that may be damaged, TACT guarantees that this problem will not occur at all.
Tact has been manufactured to withstand all shocks and work under all conditions and with the simplest capabilities, as well as for its small size and ease of carrying and storing it will not be subject to losing its functions due to the fall of liquids or water on it or falling from its place and breakage.
 TACT is bigger than the largest interactive whiteboard and smaller than the smallest interactive whiteboard as you can carry it in your pocket with ease and install it to turn a very large screen wall into an interactive whiteboard with greater features, stronger durability, and better options.
Compatibility with all operating systems versus interactive boards:
While most or all smart screens and interactive whiteboards require a lot of connections, wires, and technical arrangements, and you may need a specialized team to come to your company or organization to install and make sure the screen works, Tact does not need any of this trouble or waste a lot of your money, time, and energy in the installation step Just.
TACT device is designed to work in the least steps and the fastest way as we have mentioned, it is a wireless device that works with all the display devices and surfaces you can imagine "all screens with all their brands, whether they are TV screens, LCD screens, smooth or even normal surfaces", and it also works with operating systems such as Windows, Mac, Linux, Android, etc.
All you have to do is plug the TACT device into the USB port of your device, point the device, and start your experiment.
Much lower than interactive boards' prices:
Compared to the prices of interactive screens, whiteboards, and smart display surfaces, which cost tens of thousands of pounds, the price of the Tact device is much lower, although at the same time it gives you better features and more options. Thus, the Tact device achieves the difficult equation that all companies seek:
"Better quality, more advantages, and lower cost."
Unlimited but Interactive boards have limited spaces:
The size of interactive smart screens or display boards in the global market ranges between 61 inches and 92 inches.
Therefore, if you need larger spaces or attend a presentation in a large conference, a mass festive gathering, or open seminars for a larger number, and you need spaces up to 150 and 200 inches, TACT is the only solution effective with you.
Easy to use with other display modes:
If you want to write with some pens on the interactive surface, or mark or paint, you often need pens and special tools to use with screens and other interactive whiteboards, otherwise, your whiteboards will be damaged if you use regular pens or colors and may cost you a lot of money to maintain.
But with TACT device: you can write with all the pens you want and use all the presentation and teaching methods that you like without fear of damage or worry about repair and maintenance costs.
For these many advantages, TACT has won the trust of hundreds of educational bodies and companies from all industrial and commercial sectors in 13 countries around the world!
Read from here: Tact partners.. More than 114 clients from 13 countries around the world, who are they and what did they say about Tact? 
You can also try Tact and take advantage of all these pros. and have a wonderful informational and interactive display experience.
Order now your free demo TACT device by contacting us at: … Or fill in your data here "link", and we will contact you.